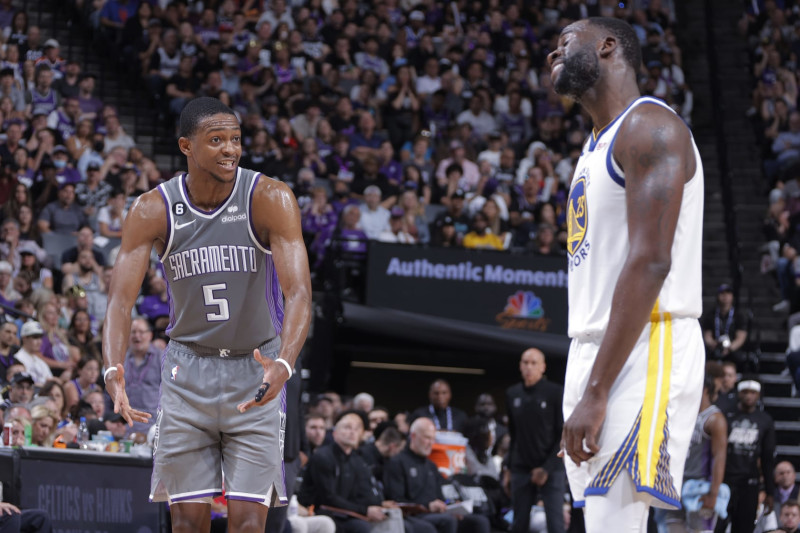 In the NBA nowadays, the term "world rivalry" is often used, but Draymond Green only applies it to a select few teams.
Green disagrees with the premise that Memphis and Golden State are rivals.
He does think the Warriors have a connection to the Kings, however.
"The reason I'm cool with that word being used is because there is a NorCal thing there," Green said on Dubs Talk. "The Bay and Sacramento being so close, so different yet so similar. You have areas along the way that could kind of pick the Bay and could kind of pick Sacramento, where their [fandom] would go.
"So taking all of those things into account, then you add in [Kings owner] Vivek [Ranadivé], who was a minority owner here before he outright bought the Kings. [Kings coach] Mike [Brown]. Mike B has won championships with us. You start adding those things to it and it becomes all the more special. So that one I would not say what I would say about most people when they say 'rivals.' That's actually a thing that's bigger than basketball."
The Warriors may have built an unbelievable dynasty, but it took a lot of effort, a lot of defeats, and a lot of hardships to do it.
Draymond notes that he observes the Kings' grit and that it makes him reflect on his 11 years of playing for the Warriors.
"Now you start talking about the basketball side of it and that team gained my respect," Green said. "There's a lot of teams we've played over the course of this run, and they ain't gained any respect. But that team gained my respect. They got a bunch of young, hungry guys led by De'Aaron Fox, who will be a superstar in this league. They're hungry and they're going after it, and I respect that."
"I can look at them and I remember that part of the journey. The reality is: that's the sweetest part of the journey, when nobody thinks you can do it. They're right now in the sweetest part of the journey. And I love and appreciate that. Playing against those guys and going to a seven-game series, all of these playoff series you either lose and it's 'aw I respect those guys' or 'I don't really respect them at all.' And they gained my respect."
It's nice that Draymond respects the Kings, but it's hard to know if that respect would be reciprocated.
Green stomped on Domantas Sabonis' chest in their second matchup during the playoffs, was ejected and missed Game Three for the flagrant act.
The Kings players probably haven't forgotten about that one.
This season, the Dubs are looking build upon their dynasty this season after recruiting the point god himself Chris Paul to the team.
The franchise have also brought back 2022 championship player Gary Payton II, along with a host of other veterans like Rudy Gay and Cory Joseph.