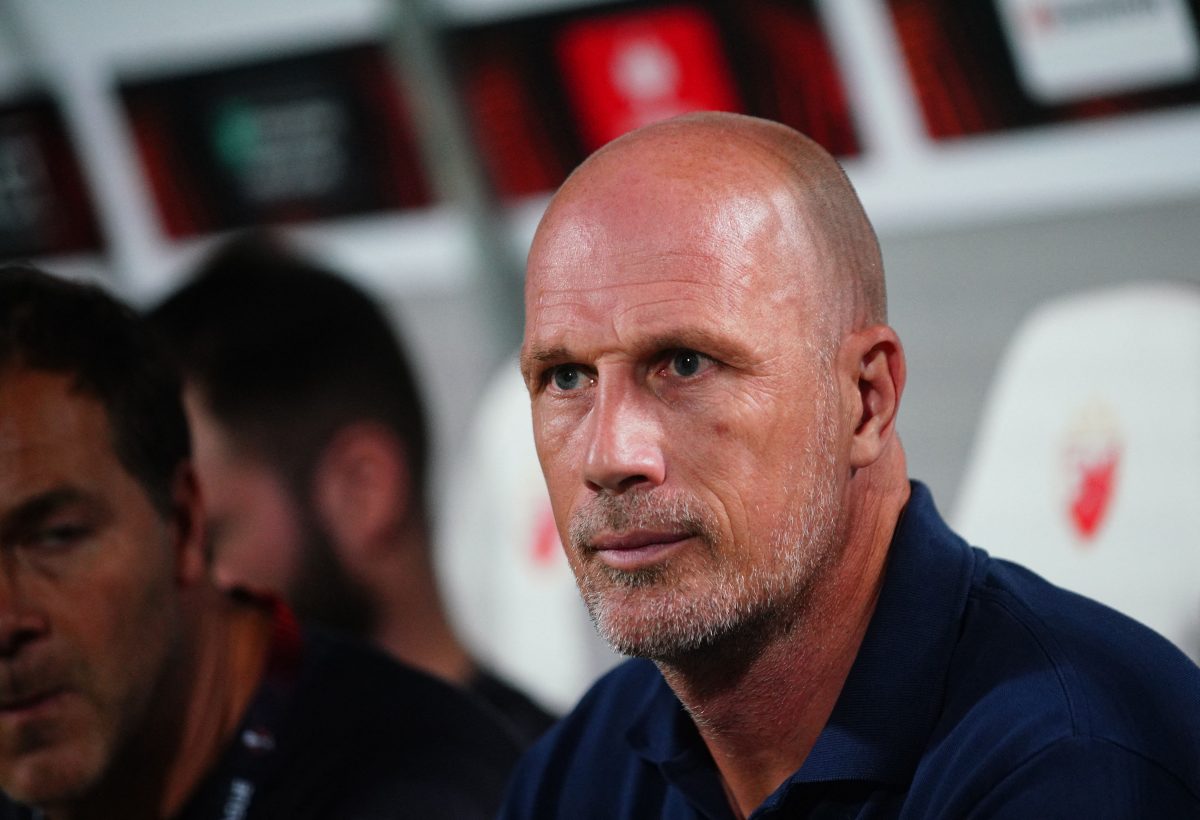 Philippe Clement believes immediate improvement is required from Rangers for their Europa League clash with Sparta Prague on Thursday.
The Belgian began his tenure as Light Blues boss with a convincing 4-0 cinch Premiership win over Hibernian at Ibrox on Saturday.
Clement was pleased enough with the first performance of his new team but will be looking for more in the Czech Republic as Rangers look to get back on the European track following the 2-1 loss to Aris Limassol earlier in the month.
The shock defeat in Cyprus negated a fine 1-0 home win over Spanish side Real Betis, with all four Group C sides on three points going into matchday three.
The Gers manager – without a natural left-back as Borna Barisic and Dujon Sterling are injured and Ridvan Yilmaz is not in the European squad – said: "We need to show a better level than on Saturday because this is a better team.
"They are really good on the ball, good quality players, good structure, good coach, and they are at home which is also different.
"So the whole team needs to be on their toes but I saw good signals in the last two days in training that everybody is up for a great European evening and you know in those evenings you need to be very focused, very concentrated and you need to take your moments."
The former Belgium defender recalled a good night from two decades ago when he entered the Letna Stadium following the journey from Scotland.
A 1-0 win for the Red Devils in the 2002 World Cup finals play-off against the Czech Republic on November 14, 2001 booked Belgium's place in South Korea and Japan with a 2-0 aggregate victory.
Asked about his wide European experience while at Genk, Club Brugge and Monaco, Clement said: "It is good to have experience and to know what are the important things in these evenings."
"It is also evenings I like and love, all the vibe around European games, different places, different stadiums."
"And I also had a really good feeling when I went on to the pitch."
"I said to Todd Cantwell when I came in the stadium I recognised the stadium because more than 20 years ago we qualified here with Belgium for the 2002 World Cup, so evenings like that are special."
Clement, who played with Sparta Prague boss Brian Priske at Club Brugge, will have dig into his squad to plug the hole at left-back.
Barisic went off injured after 10 minutes against Hibs to be replaced by Yilmaz, left out of the European squad by former boss Michael Beale, and with Sterling also injured, right-back Adam Devine or centre-back Ben Davies may be called upon to do a job for the Govan side.
Clement was keeping his cards close to his chest but said: "I look for solutions and it will be another player who will not play in his normal position, to fill that position and do the job for the team.
"You can keep on being negative but someone needs to step in and help the team."
"We hope to get Borna back towards the weekend or at least next week. It is not really a big one but the timing is really bad because Ridvan is not on the list, a decision made before my time so I can't do anything about that. Dujon is injured also a lot of things have come together."