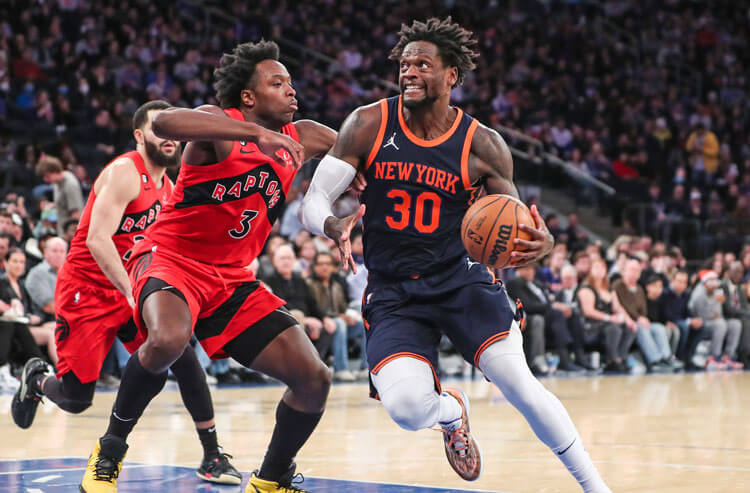 A court filing revealed the Knicks are seeking more than $10 million in damages from the Toronto Raptors as part of a lawsuit alleging the theft of thousands of confidential files.
The Knicks also argued that NBA commissioner Adam Silver shouldn't arbitrate the case due to his close friendship with Raptors governor Larry Tanenbaum.
The most recent filing, which was obtained by ESPN, came in response to the Raptors' Oct. 16 motion to dismiss the Knicks' initial complaint and have Silver arbitrate the dispute.
The Knicks argued in Monday's filing that Tanenbaum's position as the chairman of the NBA's board of governors would create a conflict of interest. The filing continued, "Tanenbaum serves as Silver's boss and exercises control over and heavily influences Silver's continued employment and salary."
"Among other things, Tanenbaum has been described as 'a close ally of Commissioner Adam Silver,'" the Knicks wrote. "Silver himself described Tanenbaum as 'not just my boss as the chairman of the board of governors, but he's very much a role model in my life.' If Silver were to preside over the instant dispute, he would be arbitrating a case for his boss and ally."
The Raptors haven't publicly commented on the matter
The complaint accused former Knicks employee Ikechukwu Azotam, who worked for the Knicks from 2020-23, of sending the Raptors thousands of confidential files — including play frequency reports, a prep book for the 2022-23 season, video scouting files, opposition research and more — after the team began recruiting him to join their organization in summer 2023, according to ESPN.
"We were the victim of a theft of proprietary and confidential files, which is a clear violation of criminal and civil law, and we remain confident that the Court will decide in our favor in this matter," a Madison Square Garden Sports spokesperson said.
The team also accused Azotam — who worked for the Knicks as an assistant video coordinator, then as a director of video/analytics/player development assistant — of violating a confidentiality clause in an employment agreement and alleged that members of the Raptors "directed Azotam's actions and/or knowingly benefited from Azotam's wrongful acts."
Monday's filing marked first instance of the Knicks describing potential monetary damages since they filed their initial complaint in August.