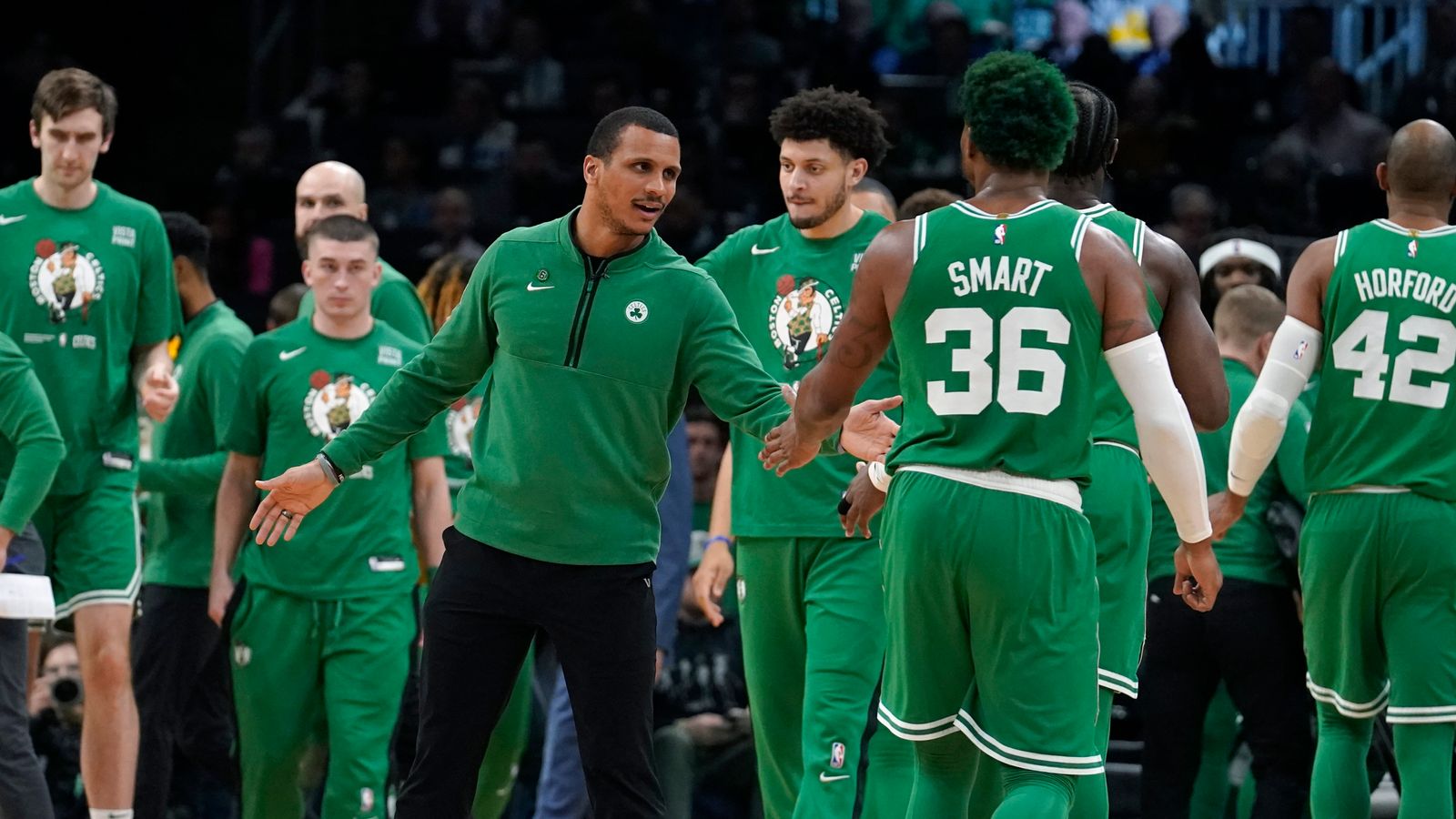 The Boston Celtics made one of the most surprising roster moves this season by letting go of Marcus Smart in exchange for Kristaps Porzingis.
In an attempt to shake up their roster following a loss to the Miami Heat in the Eastern Conference Finals, the Celtics traded Smart to the Grizzlies in a three-team deal with the Washington Wizards. Boston got Kristaps Porziņģis back in the deal.
It was such a stunning move that many analysts and fans initially didn't understand the rationale behind it.
Celtics Lab 223: Looking ahead to Boston's 2023-24 season opener, wrapping up unfinished business https://t.co/dG9qo1bbVG pic.twitter.com/EkuZyGRbYe

— The Celtics Wire (@TheCelticsWire) October 23, 2023
Nobody was as surprised as Marcus Smart, who revealed that the Celtics told him they wouldn't trade him only for the 2022 Defensive Player of the Year to find out he was being traded via Twitter.
I was told everything was good after asking multiple times. Like, 'I'm hearing (rumors), what's going on?' And they're like, 'No, you're good, you're good, you're good.' And then when I do hear about the trade, it's from Shams (Charania) on Twitter before I hear from the team, Smart said.
By replacing Smart with Porzings, the Celtics prioritized front-court offensive production over perimeter defense and the team's heart and soul — at least before they acquired Jrue Holiday three months after.
Smart, who averaged 11.5 points and 6.3 assists as the team's point guard last season, took that as a sign that Boston no longer valued what he brings to the table.
You always want to be where you're wanted, and another team's trash is another team's gold. So, I'm glad to be here, Smart added.
I'm glad to be in an organization that wants me and sees me (have) great value. So, I'm ecstatic, and I'm ready to get going.
That was a painful breakup for both parties, who have been together since the organization drafted Smart sixth overall in the 2014 NBA Draft.
As years passed, the three-time all-defensive team awardee evolved as a prominent leader of the franchise, who led the team through its ups and downs. Now, Smart will play this role on the Memphis Grizzlies from now on.
With three years left on his contract (including this season), Smart always assumed he was bound to get traded but not as early as this offseason.
He admits that he's not disappointed at the idea of him being moved to another team for basketball reasons but more so with how the trade went down.
The Celtics took a massive risk by giving up their team's heart and soul to improve strategically as a team.
Now, only time will tell if this is that move that will finally get them over the hump or one that will pull them a step backward and make them regret one of the most significant decisions they've had to make over the past couple of years.
As he prepares to start his first season with the Memphis Grizzlies, Marcus Smart has opened up about being traded from the Boston Celtics over the summer.
Smart explained he wasn"t surprised the Celtics traded him but thought it might happen next year.
There was a lot of surprise initially when the Celtics dealt Smart. Jayson Tatum told B/R"s Chris Haynes he was "really close" with a lot of the guys Boston moved, including Smart, during the offseason.
A person close to Smart described the guard"s reaction to the trade as a "gut punch" and a "complete shock."
Smart was going into the second season of a four-year, $76.5 million extension he signed with the Celtics in September 2022.
The 29-year-old spent the first nine seasons of his career in Boston, being named to the All-Defensive first team three times and Defensive Player of the Year for the 2021-22 season.
Marcus Smart says Boston had told him he wouldn't be traded and says he discovered his trade via Shams' tweet before hearing it from Boston directly 😬

"I was told everything was good after asking multiple times. Like, 'I'm hearing (rumors), what's going on?' And they're like,… pic.twitter.com/RZFwj645i6

— NBACentral (@TheDunkCentral) October 24, 2023
The Grizzlies will be counting on Smart to bring his on-court leadership and toughness with him as they try to improve on last season"s disappointing first-round playoff loss to the Los Angeles Lakers.
Smart will likely have an expanded role to start the season with Ja Morant suspended for 25 games for conduct detrimental to the league.
Memphis will tip off the 2023-24 season on Wednesday at home against the New Orleans Pelicans.
Marcus Smart was one player that the Boston faithful were disappointed to see go.
The veteran guard was moved to the Memphis Grizzlies in the three-team trade that brought Porzingis to Beantown, saddening those who assumed Smart was a part of the Celtics" core for years to come.
Well, it turns out that fans weren"t the only ones who thought Smart would be around a little longer.
On Tuesday, Smart accused the Celtics of lying to him. The three-time All-Defensive specialist told Weiss that he asked management "multiple times" about trade rumors, only for the front office to tell him that there wasn"t anything to worry about.
Smart, like the rest of us, found out that he was traded to the Grizzlies through NBA insider Shams Charania on social media rather than from the Celtics themselves.
Like, 'I'm hearing (rumors), what's going on?' And [the Celtics are] like, 'No, you're good, you're good, you're good.' And then when I do hear about the trade, it's from Shams (Charania) on Twitter before I hear from the team.
If what Smart is saying is true, it"s definitely disappointing to see how general manager Brad Stevens handled the situation. Regardless of how you feel, organizations always end up looking worse when the player has to find out about a trade or cut from an insider — especially when they"ve been with the team for nine seasons.
It didn"t take long for Smart to become a fan favorite after the Celtics drafted him sixth overall in 2014. He averaged 10.6 points, 4.6 assists, 3.5 rebounds, and 1.6 steals across 581 regular season outings with Boston, He was also a reliable playoff contributor, suiting up in 63 games over the last four postseasons.
While Holiday is a massive upgrade over Smart, it doesn"t make the latter"s departure — especially with how it happened — hurt any less. Hopefully, it"s only a one-off mistake by Stevens. Transparency and loyalty from the front office are crucial to attracting and keeping players around.
Having good veterans is essential for young teams looking to make the leap. As someone with years of playoffs experience under his belt, Smart understands what it takes to win. Because of his resumé, he is a veteran the young players on the Grizzlies will listen to.
Parting ways with the franchise that drafted you had to have been tough for Smart, but things should work out well for him in Memphis.
In the meantime, Boston fans won"t have to wait too long to see their team faceoff with Smart.
The Celtics and Grizzlies collided at FedExForum on Sunday, Nov. 19 before meeting again at TD Garden on Sunday, Feb. 4.
Only time will tell if more bad blood is added to the situation.