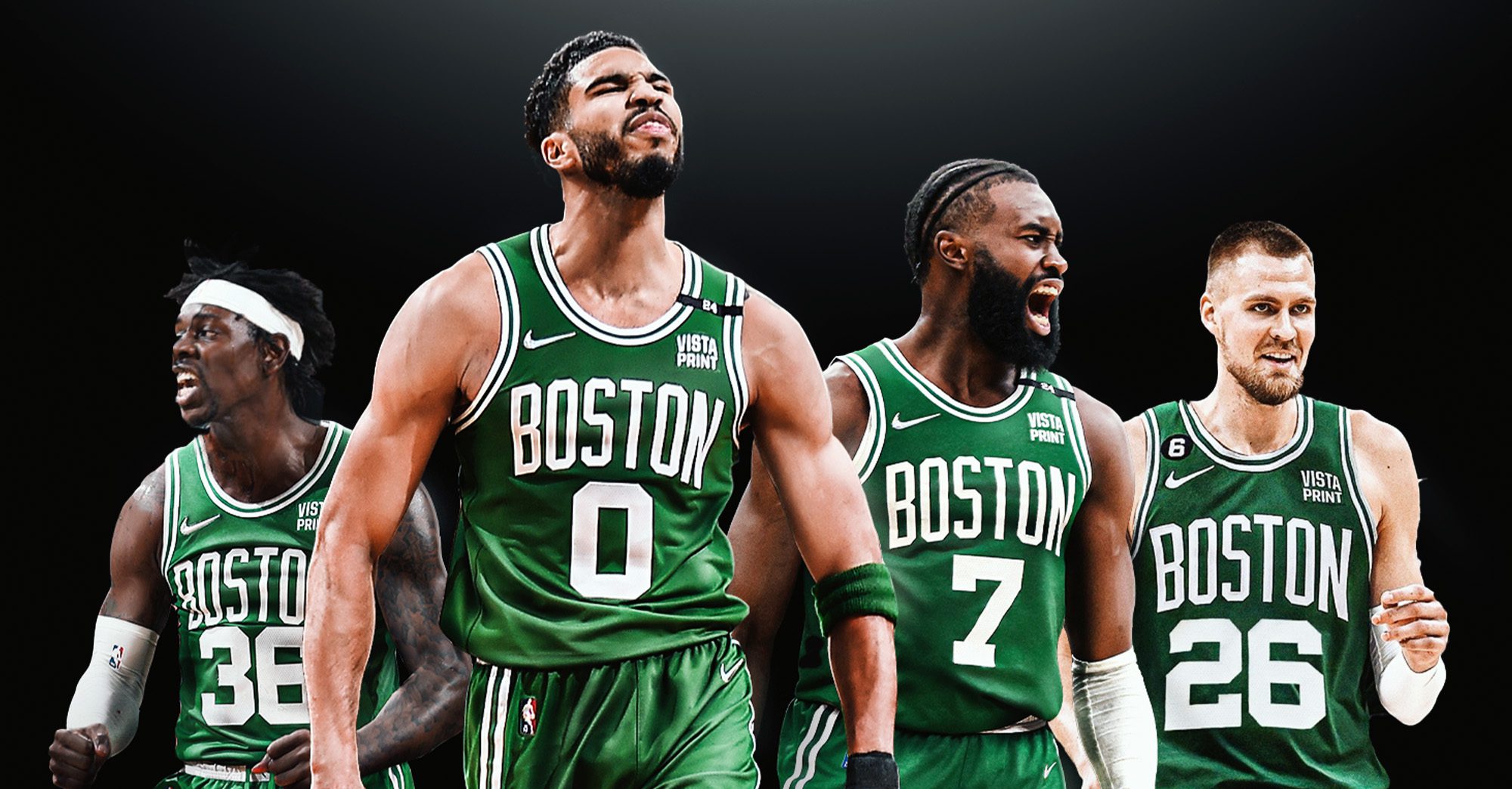 With 3.7 percent of the schedule played, the truth is already obvious, inspiring, and just slightly nerve-wracking. The Celtics are built to win the elusive Banner 18 this season. Their core — Jayson Tatum, Kristaps Porzingis, Jrue Holiday, Derrick White, and Al Horford — is the most talented and well-rounded top six in the league.
More importantly, they fit. This isn't like, say, the 2018-19 Celtics, who had a half-dozen players that thought they were the star of the movie.
Tatum is the legitimate Most Valuable Player candidate who doesn't get enough credit for how he comes back each year with a new trick in his bag. He has been ruthless this season in hunting mismatches and systematically destroying smaller players in the post. He's developed a nice two-man rapport with Porzingis, and his increased muscle mass has not affected his shot (he's at 55.4 percent from the field and 37 percent from 3-point land).
Brown is the Scorer, capital S. He's not as well rounded as Tatum, though he plays with the confidence of someone who believes he is the best player on the court. His work ethic, like Tatum's, is beyond question, and after a disjointed performance in the opener against the Knicks, he has been a half-step from unstoppable since. Brown scored 27 points in the first half Monday against the hapless Wizards, knocking down 7 3-pointers. I've wondered whether he will be — how do we put this? — more selective when his shot isn't falling. If he can resist trying to dribble through double-teams — and perhaps trust that the ball will come back to him when he passes it — the second-team All-NBA selection can get to an even higher level of efficiency and excellence.
When watching Porzingas operate — whether flicking an effortless 3-pointer or destroying some overwhelmed "undersized" 6-foot-9-inch defender in the post — I find myself having the same reaction over and over again: This isn't fair. Someone so tall should not be so polished. I think Monday's sequence, when he swatted Jordan Poole's casual 3-point attempt, then hustled down and wrecked 6-6 Corey Kispert in the paint, might have been the most enjoyable Porzingis moment so far. He does have some trouble defending quickness — hey, Bam Adebayo is a tough matchup for just about anyone — and given his history of injury, I suspect we all cringe when he jumps in traffic just a little less than we did when Robert Williams III did the same. Porzingis has to stay healthy because he has unlocked so many possibilities in this offense, and by all accounts is a terrific guy who is beyond thrilled to be here. I need to watch this all season, right through the summer.
I'm going to mention Jrue Holiday in tandem with White for one reason: they're already copacetic, complementary backcourt partners who look like they have been playing together for a half-dozen years rather than three games. My favorite play of the season occurred late against the Heat in the season's second game, when Holiday bounded over Adebayo for a rebound, gave the ball to Tatum, and got it back, pushed it hard (Tommy Heinsohn would have been thrilled), spotted White in the corner, faked quickly to Porzingis in the post to look off the defense, then fired a strike to White, who buried the corner three.
Both play relentless defense (I love how Joe Mazzulla occasionally has been unleashing a full-court press). Both are versatile, high-end players who don't need to score to have a major impact on the game — but can score in bunches when called upon. Holiday's knack for making a play when the Celtics need one is going to draw a lot of Dennis Johnson comparisons. I adored Marcus Smart. Maybe you did too. But with Holiday and White — whose exclusion from ESPN's top 100 players had to have been on purpose to generate attention — in the backcourt, it's not a coincidence that the chaos has been greatly reduced. It's OK to admit it now: the Celtics weren't getting over the hump with Smart. He never curbed his erraticism. Brad Stevens did a difficult thing to make his team better.
As for the bench, it's a work in progress. But I believe those who are concerned about it tend to forget that Horford counts as a reserve, and that's a heck of a person to have as the first member of the second unit. Sam Hauser needs to start making open shots, and the same goes for Payton Pritchard, who remains best at creating his own shot rather than those for others. But some of these players will emerge. I like Oshae Brissett and Lamar Stevens as live-wire energy guys. And the Celtics have more resources than other contenders to bring in help.
Just a hunch, but I suspect wheeler-and-dealer Stevens will be willing to trade picks for depth. His moves have created a delight of a team, one whose next game is now always a cause for anticipation. We know what great teams look like around here. If this one can stay healthy, we know exactly what is possible.