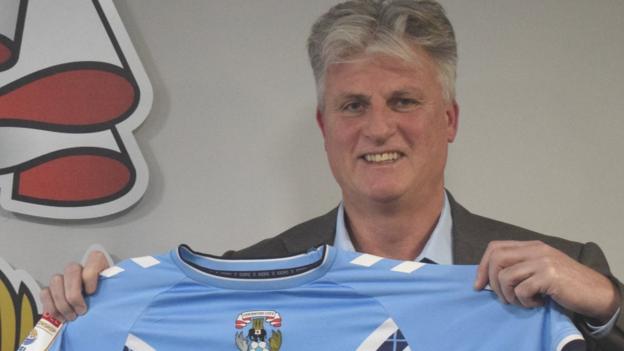 Doug King insists he will be "bold" in the January transfer window in an effort to address Coventry City's midfield issues. The Sky Blues' owner says he's fully aware of the need to strengthen following the sale of star man Gustavo Hamer and the inability to draft in alternatives to help fill the void.
City's situation hasn't been helped by injuries to Ben Sheaf, Liam Kelly and Jamie Allen, while there's clearly a need for a dynamic, box-to-box midfielder with similar attributes to Hamer. Asked if fans can expect a similar level of investment in the January transfer window as the club made in the summer, when it shelled out somewhere in the region of £20million on eleven new players, King replied: "Wow!"
Speaking at a BBC CWR fans' forum, the City chief added: "January is obviously shorter than the summer window. Listen, everyone has speculated about what we paid and what we sold. We invested pretty heavily in the summer. Obviously I am aware and we are aware of the midfield situation and we're working. If we find the right kind of deal that works for us with the right type of player then we'll probably be bold and probably get involved.
"But for me, it's never clear until it's clear. And so you just have to keep going and do your work and if something turns up which you think is the right value for the situation then that will be where we'll target. But it certainly will not be like the summer."
Mark Robins was then asked if it's correct that he would ideally like one or two more players in January, to which he told the studio audience: "Well I think what's important to state is that we're all together in it. We don't do anything apart. There's a togetherness and we all know where everything is and I think that's really important because everyone has got to be on the same page. And we are all on the same page.
"It wasn't for the want of trying (to get a midfielder in the summer). Players we tried to bring in, we just couldn't get them over he line. Fourteen left and eleven came in and I know how hard everyone worked to get that over the line and to finalise that business.
"And however later it was than we would have liked, it was really important that we did it. It could have been a lot different. We could have kept some of what we had got and tried to do it slower, but that isn't what we needed to do.
"What we needed to do is what we've done and have a real go at bringing the depth and quality in. It means we now don't have to do the amount of business we have done for a while, but I think things will evolve. And we're still working towards what we're going to do in the next transfer window, as you'd expect.
"And there are some exciting players out there that we might be able to do something. We might not be able to do something but it won't be for the want of trying. But we want to move this forward as quickly as we possibly can do for everybody; for us, for you (the fans).
"And when people talk about failing to go up this summer, really we are starting this process again. It's the start of another process but it's a different process this time. It's a new era, there is no doubt. The feel of the stadium, for instance, is totally different and it feels like ours; feels like we're going to our stadium, which is fantastic.
"But all the things have been put in place, the training facilities have improved no end. Those are the things that start to blossom over a little bit of time. You can attract better players just through that. But the attractive way that we play, as well, although we have still got a long way to go, there's no doubt, but the way that we play is sustainable. And that's the biggest thing for me because we can build on that."