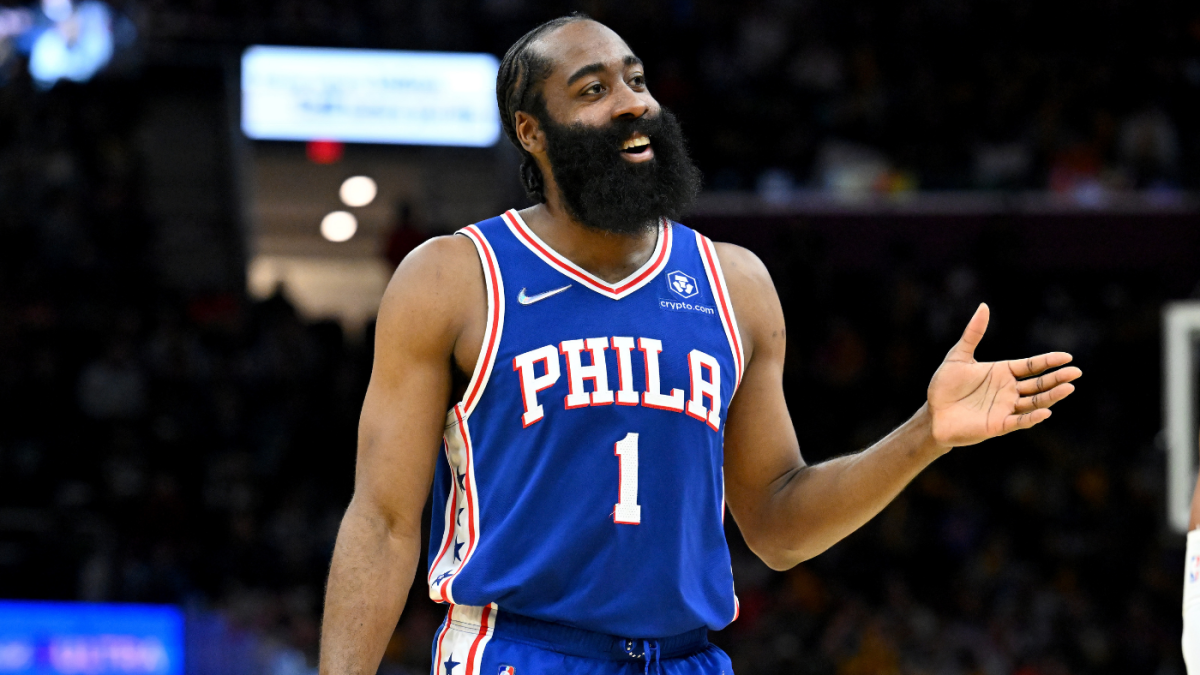 The bulk of the Sixers' summer was spent trying to convince the Clippers, Harden's sole suitor, to put up an acceptable package for the former MVP. Reportedly, Philadelphia was seeking a package including Terance Mann and two first-round picks, an objectively great price for a three-time scoring champion who just came off a 20-point-per-game season in which he led the league in assists. But the Clippers apparently refused to include Mann in the deal, citing great future plans for him alongside James Harden and the rest of the core that they intended to build around.
In the end, Philadelphia compromised, as the final trade did not include Mann. Instead, the Sixers traded the Beard, P.J. Tucker, and Filip Petrusev to the Clippers in return for Marcus Morris, Nicolas Batum, Robert Covington, Kenyon Martin Jr., two future first-round picks, a potential first-round pick swap in 2029, and a couple of second-rounders.
It certainly wasn't as lucrative as the standard superstar deal, well short of the price that the Milwaukee Bucks paid for Damian Lillard or what the Phoenix Suns gave in return for Kevin Durant. Of course, neither Dame nor KD comes with the amount of baggage that Harden comes with, both on and off the court. With the way the Beard handled his trade request, including publicly defaming Sixers President of Basketball Operations Daryl Morey on multiple occasions this past summer, Philadelphia should be relieved to get the haul that it did, especially when factoring in that the Clippers were really Harden's only suitors.
All four of the wings that the Sixers acquired from L.A. could end up being important rotation pieces for them down the stretch. Suddenly, a team that had an atrocious wing rotation has found themselves overflowing with depth at that position.
But, when one position is overly deep on a roster, that usually means another position is lacking. In the Sixers' case, not getting back a ballhandler in return for the Beard has left Philadelphia short on guards and playmakers. Going off of their main listed positions from last season, the only point guards on the roster now are Patrick Beverly and Jaden Springer. The former has made a living as a 3-and-D guard rather than a table-setter, and the latter hasn't garnered any meaningful reps as an NBA playmaker.
This could certainly turn out to be an issue for the Sixers. Without Harden, Tyrese Maxey has filled in admirably as Philly's new starting point guard, despite having been an off-guard in high school, college, and his first three seasons in the NBA. With the ball in his hands more, Maxey has been able to translate his new opportunities into increased production, both as a passer and a scorer.
It's a tiny sample size, but the eye test confirms that Maxey has significantly improved his ballhandling and decision-making. He probably won't finish the season with a 6.3:1 assist-to-turnover ratio, as opposing defenses start game planning for him as the primary table setter, but the strides he's already taken as a playmaker are extremely encouraging.
Maxey isn't the only player for the Sixers to have improved as a passer under new head coach Nick Nurse's system. Joel Embiid is averaging seven helpers a night through three games, shattering his previous season average of 4.2 assists. He's done this while keeping his turnovers relatively tame at 3.7 per game, even including game one when he coughed the ball up seven times against the Milwaukee Bucks.
Thanks to Maxey, Embiid, and Nurse's egalitarian system based on off-ball player movement, the Sixers are currently 15th in the league in assists despite not having a real point guard.
Perhaps the addition of Nicolas Batum, a renowned secondary playmaker, and more familiarity with Nurse's offense can have the Sixers climbing the rankings in assists as a team. If not, though, it does seem like they have enough passing on the roster to put together a playoff-caliber offense. The worry, though, is what the Sixers' options will be if Maxey or Embiid, or even both, are unavailable.
While they've been fine with their shallow guard depth so far, it would behoove Philadelphia to identify another playmaker that they can acquire via trade this season. With a trove of NBA wings and a renewed cupboard of draft capital to work with, the Sixers should be able to find a reasonable deal for another guard to shore up their depth.
They could trade for Zach LaVine or Delon Wright. Or maybe they could sign John Wall as a free agent. If they mean to compete this season, though, the Philadelphia 76ers need to add another playmaker to their roster.