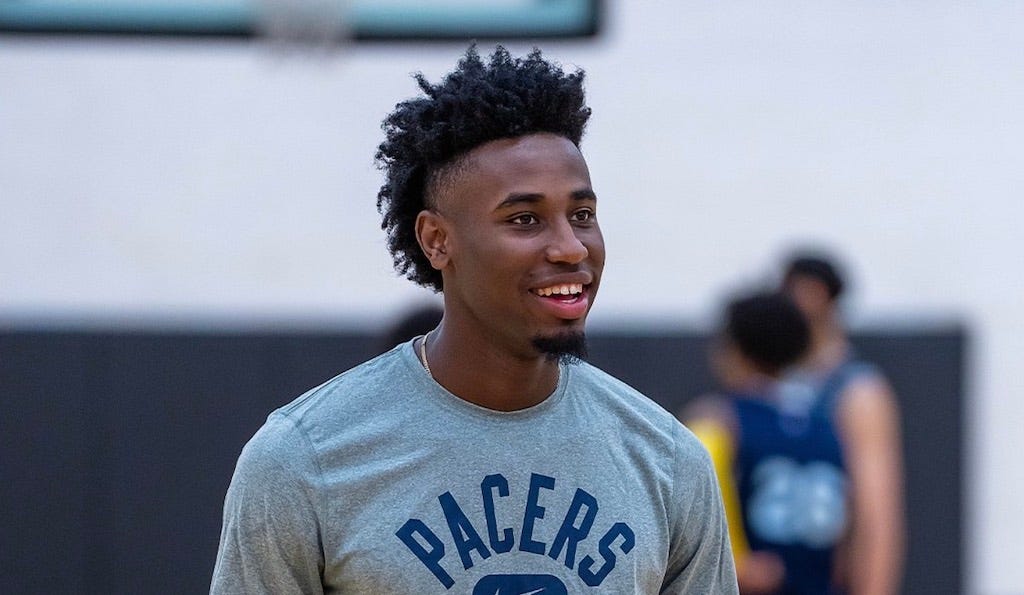 It appears former Boston Celtics lottery pick Aaron Nesmith kept some of the receipts from 2022. On October 29, Nesmith responded to a Bleacher Report joke from 2022 that insinuated that the Celtics metaphorically traded next to nothing to the Indiana Pacers – a trade that included him – for Malcolm Brogdon.
Nesmith sarcastically responded with "S*** aged well ain't it" via his Instagram story, which Pacers beat reporter Alex Golden aggregated via his X account.
Nesmith shared this after a breakout performance against the Cleveland Cavaliers on October 28. The fourth-year wing put up 26 points due in part to hitting five three-pointers while corraling nine rebounds. His performance helped the Pacers beat their division rival 125 to 113.
Aaron Nesmith showed flashes during his time with the Celtics, but a sophomore slump led to him riding the bench through most of the 2021-22 season. Because the Celtics wanted to capitalize on their run to the NBA Finals, they traded Nesmith for Brogdon, hoping Brogdon would help them more.
Aaron Nesmith shared this on his IG Story pic.twitter.com/mxquYImOdt

— Alex Golden (@AlexGoldenNBA) October 29, 2023
Nesmith also signed a three-year, $33 million extension on October 23. Performances like those prove that the Pacers were right to sign him to a long-term deal and that they may have extended him on a discount.
Oshae Brissett Talks About Celtics Debut
Nesmith's former teammate Oshae Brissett didn't light up the box score, but his impact on the Celtics game against the Miami Heat on October 27 was palpable. In 14 minutes, Brissett posted a plus/minus of plus-seven.
After the game, Brissett explained that his performance encapsulates how he plays when he takes the floor.
"That's who I am as a player," Brissett told reporters, per CLNS Media Boston Sports Network. "Every night, I'm going to try to do that no matter who we're playing, no matter what night it is. But we've got real stars on this team. So me coming in, just being myself, not trying to do too much. Not trying to prove that I can do anything else even though they all know I can."
Brissett's energy could help pave the way for him to play in the rotation. Brissett was a rotation player for the Pacers before Nesmith usurped him.